Thunderpole T2000 vs T3000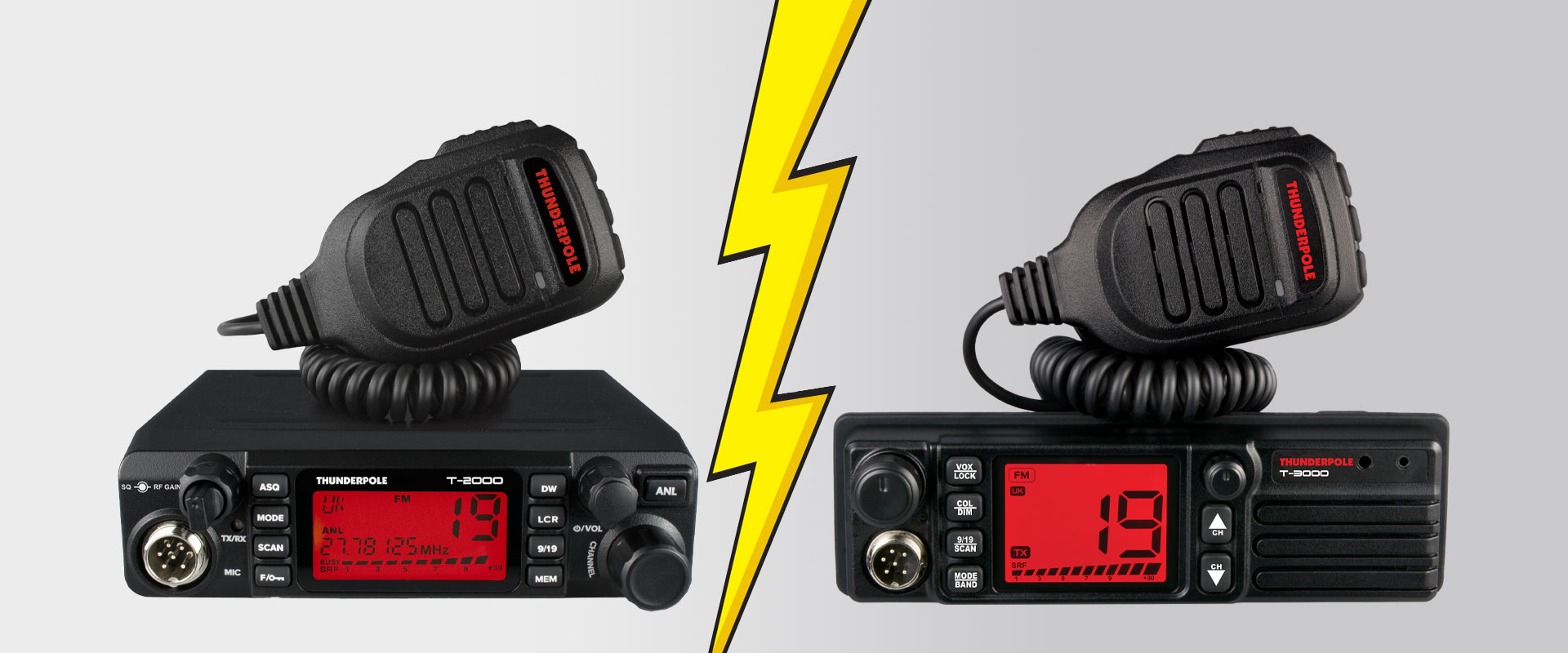 T-2000 CB Radio vs T-3000 CB Radio
Choosing between the two top Thunderpole CB radios depends on which features and specifications are most suited to your needs, this article should help you make the right decision.
1) Design
The T-2000 and T-3000 radios have completely different designs, and this may be the main deciding factor for most people. The T-2000 has a standard mobile radio shape that has been used for CB radio design for decades, mainly because it just works. This will be fine for most applications as the radio is only 16cm wide and 15cm deep. However, the T-3000 is a completely new design of radio which has a powerful front speaker, is only 85mm deep (3.35") and fits into a DIN sized radio slot (with no additional bracket or extension speaker needed). This makes it ideal for vehicles with a shallow DIN fitting, or if you are mounting it on a desk or dashboard with little surrounding space.
2) Features
The T-2000 and T-3000 CB radios are both packed with features, but which ones do you actually use the most or even need? Let's start with the similarities; both have 7 colour large LCD displays and come with the heavy-duty T-series microphone, both have all the UK and European CB radio bands built in and work from 12v or 24v vehicles, and both have channel scan, AM/FM, LCR and auto-squelch as standard. But what features are unique to each radio? Well, the T-2000 has memory channels, automatic noise limiter and frequency read-out. Whereas the T-3000 has a 2 pin Kenwood style accessory socket with VOX capability, backlit buttons and dimmable LCD display.
So, if you are you using the CB radio as a base station and need to store dedicated channels in memory and/or see the frequency, then the T-2000 may be the best bet. But if you need a radio to use in a vehicle with hands-free capability or need a dimmable display for driving at night then the T-3000 may be more suited.
3) Ease of use
Both radios are extremely easy to use but work in slightly different ways. The T-2000 has memory channels for storing frequently used channels, but with the T-3000 you can access all the frequency bands and modes by pressing a single button, without the need for switching the radio off and on again. So, it depends on how you use your CB, if you need to recall the same set of channels over and over again, then the T-2000 may be best, but if you wanted to easily swap between bands and modes, then the T-3000 has the edge.
4) Performance
In all tests performed, and from all feedback we have received from users, there is no noticeable difference in the performance of either of these radios. Rest assured that whichever CB radio you decide to buy, you will enjoy the usual high quality and performance associated with Thunderpole products.
5) Price
The T-3000 is only £10 more expensive than the T-2000 (at time of writing) so if your budget is really stretched then the T-2000 is your best choice. But as both radios are very competitively priced considering the quality and performance you will be getting for your money, then there really isn't much in it at all.
6) Conclusion
Although there are a number of differentiating factors between the two radios, there isn't a simple answer to which you should choose, it all depends on how you are going to use the radio and which features are most important to you.
To put it as simple as possible, if you need a modern DIN sized radio for use in a vehicle or somewhere with limited space that is easy to use and can change between bands at the touch of a button, then the T-3000 may be the best choice. If you need memory channels and/or frequency read-out and prefer the classic radio design you won't go wrong with the T-2000.
The Thunderpole T-2000 and T-3000 radios are both excellent radios and whichever you decide to buy will be a great performing radio which should last for years to come.
---
Thunderpole T-2000
Find out more: https://www.thunderpole.co.uk/thunderpole-t-2000-overview.html
Thunderpole T-3000
Find out more: https://www.thunderpole.co.uk/thunderpole-t-3000-overview.html