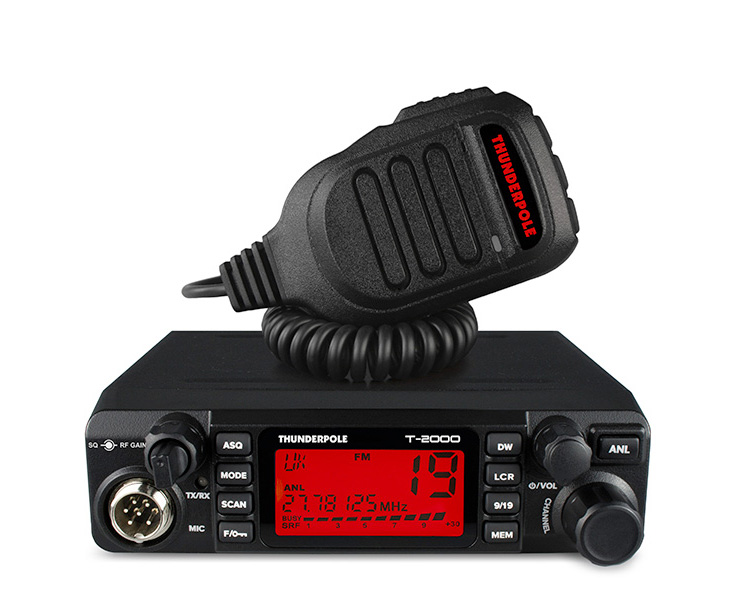 Thunderpole T-2000 CB Radio
The T-2000 pushes CB Radio to another level of performance and style. The state of the art circuit enables crystal clear, interference-free communication, whilst the revolutionary display and modern design combine looks with functionality.
Display
The beautiful LCD is central to the design of the T-2000 and shows you everything, from the channel and frequency to the signal strength and country selection. You can also choose between 7 vivid colours at the touch of a button.
Microphone
We have listened to feedback from our valued customers and have completely redesigned the microphone. The high quality electret condenser encased in a larger handset provides crystal clear audio from the palm of your hand.
UK Specification
Programmed to our own specification for use in the UK and Europe. The T-2000 is equipped with all the major European bands and AM/FM operation so is ready to go wherever you are.
CB Premium Pack
The T-2000 is also available in the 'Thunderpole Premium Pack'. This includes the T-2000 radio, choice of antenna, vehicle mount, cable and everything else you need to get started.
Engineered to Last
The T-2000 is built to give you trouble-free performance. From the advanced circuit to the heavy duty metal chassis, the T-2000 has been designed to give you the superior quality you would expect from Thunderpole.
---