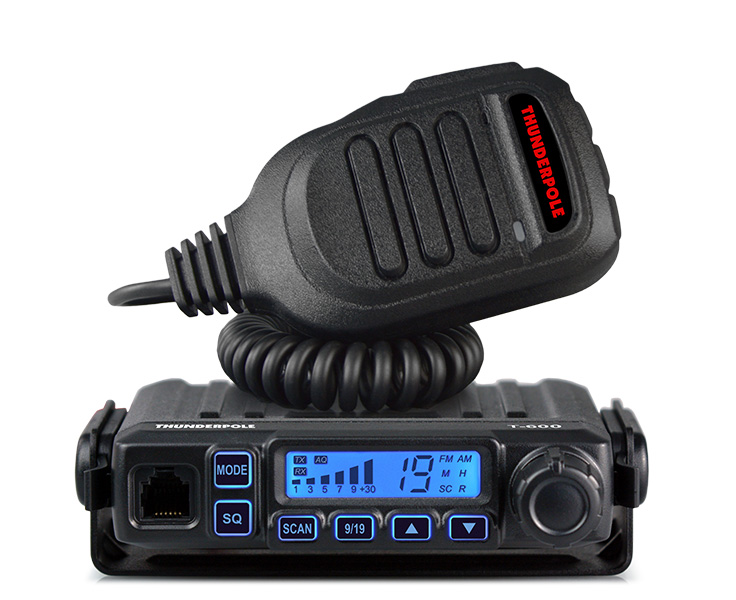 Thunderpole T-600 CB Radio
The T-600 gives maximum performance from a mini radio. Designed to be tiny yet tough, at just over 10cm wide it easily fits in any vehicle to provide simple communications.
Compact Design
The featherweight T-600 weighs in at 257g but packs a punch with its powerful 4 watt output and full-size fist mic making it just as capable as the biggest of CB's.
Nightlight Buttons
The bright blue LED display and backlit buttons on the T-600 allow you to see it in any vehicle in any light, day or night.
UK Specification
Like all Thunderpole CB radios, each T-600 comes preset to the UK channels. The 'mode' button gives you instant access to 8 frequency bands which allow use all around Europe.
Microphone
The high quality electret condenser encased in a full-size handset provides crystal clear audio from the palm of your hand. The three top buttons give you instant access to channel changing, squelch and auto-squelch.
Solid performance
The T-600 is built using a super-strong aluminium chassis, this modern robust design makes this versatile radio ideal for even the most demanding environments.
CB Radio Pack
The T-600 is available in the 'Thunderpole Off-Roader Pack'. This includes the T-600 radio, choice of antenna, vehicle mount and all cables. It even comes with a fitted cigarette lighter plug, to help get you up and running as quickly as possible.