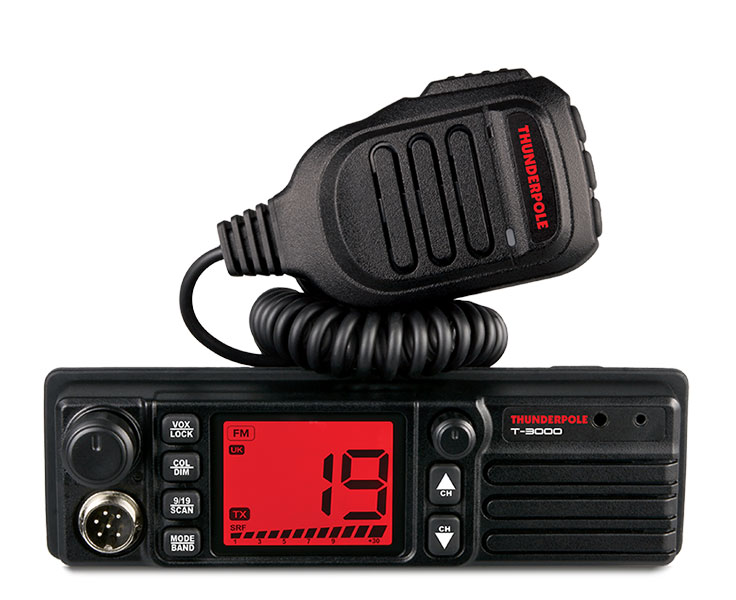 Thunderpole T-3000 CB Radio
The T-3000 is like no other CB radio. It has been designed from scratch to give you the best user experience combined with the most versatile design and outstanding performance.
Unique Design
The T-3000 gives you more mounting options than any other mobile CB radio. With a depth of only 85mm it can fit almost anywhere and the standard DIN dimensions, front speaker design and 12v / 24v circuit make dash mounting in any vehicle effortless.
Front Speaker
The powerful forward facing speaker delivers superior quality audio directly to your ears. The
precision driver enclosed within the
heavy-duty front panel enhances voice frequencies to boost received transmissions.
Display
The stunning colour changing display allows you to choose from 7 colours and 2 brightness levels to match the T-3000 to it's surroundings, and the expanded viewing angle enables you to see the screen from all directions.
Microphone
The high quality electret condenser encased in a large handset provides crystal clear audio from the palm of your hand. The three top buttons give you instant access to channel changing and auto-squelch.
UK Specification
Like all other Thunderpole CB radios, each T-3000 is preset in the factory to the UK channels. The 'band' button gives you access to 8 frequency bands (without having to power down the radio) which allow use all around Europe.
Circuit Board
At the heart of the T-3000 is the brand new precision-engineered circuit board, which has been tuned by computer software to enable the T-3000 to outperform other CB radios.
Solid performance
The T-3000 is built almost entirely from a single die-cast metal chassis. As well as making this one of the most rugged CB radios ever made, the massive heatsink also dissipates heat more efficiently keeping the radio cool.
CB Radio Pack
The T-3000 is available in the 'Thunderpole Pro Pack'. This includes the T-3000 radio, choice of antenna, vehicle mount and all cables. It even comes with a fitted cigarette lighter plug, to help get you up and running as quickly as possible.