New 'VOX' CB Radio!
Friday, 16 September 2011 | Admin
The Intek M 899 VOX is a a unique multi channel CB radio with 3 operating modes to improve driver safey.
In transmit mode, radio can be operated in three different ways :
PTT mode with the standard microphone, just like any other CB radio
PTT mode with remote PTT control (to be placed on the steering wheel or on the shift lever) and external microphone
VOX mode with external microphone (fully handsfree mode)
In receive mode, radio can also be operated in three different ways :
with internal speaker
with external speaker
with external earset
The Intek M899 also has many features including Auto-Squelch, On-screen digital signal meter, RF Gain and a Large Blue LCD Screen.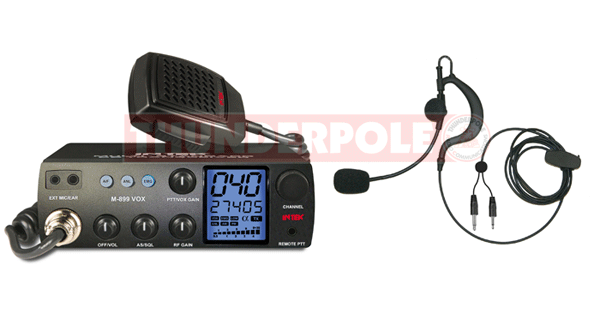 Wednesday, 3 October 2012 | Admin

We have completely redesigned the Thunderpole forum.... www.cbradio-forum.co.uk The new layout will make it easier to view and use on tablet compters (iPads), smartphones and large widescreen monitors. The security has also been boosted so you never get spam appearing on the forum, just good quality helpful posts from fellow radio enthusiasts!The Thunderpole Forum is a great place to find information and chat with fellow radio enthusiasts.
Monday, 3 September 2012 | Admin

Save £50.00. Now only £149.99!

The Intek HR5500 is a fully featured HF transceiver with latest 5th generation programming software capabilities via a Windows PC (with supplied lead).
Friday, 22 June 2012 | Admin

Introducing the new Cobra 29 LX EU CB Radio, with impressive multi-colour LCD display, full european channel coverage and a wide range of features. Available today for only £134.99.

Click on the picture now to find out more.
Sunday, 1 April 2012 | Admin

Welcome to the brand new Thunderpole website! We have listened to you, our valued cusomers, and added many new features;

A new advanced search facility, Easier to use navigation, Refine results engine, Currency selector, New 'help pages', Many new sections and new products, More functionality on mobile devices, iPads, smart phones, etc., More information on many products, Improved forum layout, New account facilty to view your details and previous orders, New 'Latest News' layout
Friday, 30 March 2012 | Admin

We have added many new Intek products to Thunderpole.co.uk, these include 2-way radios, CB radios and Amateur radios.
Friday, 30 March 2012 | Admin

The new Thunderpole Galaxy 5/8 is the latest generation of high performance base antennas. It has a new 5/8 wave design and the total length is only 4.35 metres, giving it high wind stability along with excellent performance. The construction is high quality fibreglass with tuneable top whip. The total usable bandwidth is 26 – 29.7 Mhz, making it ideal for CB and 10m amateur use.
Tuesday, 25 October 2011 | Admin

The K-PO DX-5000 version 5 is available now and introduces a few new functions and improvements to the internal circuitry.

DX5000 Version 5 Improvements (over V4) include
Thursday, 17 February 2011 | Admin

Introducing the T-1000 from Thunderpole. An advanced, modern, user-friendly CB radio - Ideal for all CB users. Within the compact design are many useful features, including 3 digit LED display (allowing you to easily see the country and channel selected), Auto-squelch (this automatically stops receive noise) and Multi-band operation (enabling your T-1000 to be used throughout Europe).
Friday, 4 February 2011 | Admin

The K-PO DX-5000 is a fully featured HF transceiver with unique programming capabilities via a Windows PC. Inside the sleak black design is an impressive array of features, including: 12w FM output (21w SSB), dual frequency and channel display, 6 programmable bands, echo, scan, PA facility, RF gain, dual watch, time-out timer, voltage display, roger bleep, adjustable power, noise blanker and ANL, built in SWR meter, hi-cut filter and input voltage protection.
Thursday, 14 October 2010 | Admin

The 'Thunderpole 5' is a 5th generation high performance base station antenna.

The top section has a tunable whip which can be trimmed to suit your desired frequency band and the total bandwidth (with tuning) is 5 MHz, from 25 to 30MHz. The usable frequency band makes it ideal for use on the CB and 10 metre band as well as DX'ing.